TannenhofEVENTS
Wel­co­me to the Tan­nen­hof-Hal­le. Built in 1974 it was used for housing our sheep and cows and for sto­ring agri­cul­tu­ral machi­nes for many years. In 2012 it was recon­struc­ted and recei­ved a new, addi­tio­nal func­tion as an events hall with an extra­or­di­na­ry ambiance.
This events hall meets all cha­rac­te­ris­tics you can expect from a modern events hall- inclu­ding new­ly built sani­ta­ry faci­li­ties, woo­den floor, and an event tech­no­lo­gy that was instal­led in 2013. In addi­ti­on an extra­or­di­na­ry win­dow con­struc­tion allows our visi­tors to have a spec­ta­cu­lar view on Ham­buch and the sur­roun­ding coun­try­si­de. At the same time we have tried to keep the hall's his­to­ric natu­re: the woo­den con­struc­tion insi­de resem­bles the tents on the Okto­ber­fest and the old barn doors are nowa­days used as the front doors.
… and this is how a cow­s­hed has been trans­for­med into an events hall.
Juli: 18. + 19. Juli 2015: 120 Jahr Fei­er Tam­bour-Corps Ham­buch Sep­tem­ber: 05. Sep­tem­ber 2015: BAP Cover­band "Fünf Jes­tal­te" Video
Fichtelkirmes 11., 12. und 13. Dezember
Andre­as Ful­te­rer & Band, 11.12.2015
Weih­nachts­zau­ber aus den Dolo­mi­ten Andre­as Ful­te­rer & Band am Frei­tag, 11.12.2015, 20:00 Uhr (Ein­lass: 19:00 Uhr) Tan­nen­hof, 56761 Ham­buch Musik ist für Süd­ti­rols erfolg­reichs­ten Sän­ger, dem ehem. Mit­glied der Kastel­ruther Spat­zen, eine Her­zens­an­ge­le­gen­heit; ent­spre­chend hoch sind die ei­genen Ansprü­che nach mehr als 20 Jah­ren Berufs­er­fah­rung. Bei sei­nen drei­stün­di­gen Kon­zer­ten mit einer exzel­len­ten Live-Band ent­steht eine unver­gleich­li­che Atmo­sphä­re ergänzt durch eine Video­show auf sehr hohem Niveau. Doch Ful­te­rers "Weih­nachts­zau­ber aus den Dolo­mi­ten" ist das un­vergessliche Kon­zert­er­leb­nis, das gera­de in der Tan­nen­hof-Hal­le im weih­nacht­li­chem Ambi­en­te zu einem ein­zig­ar­ti­gen Ereig­nis wer­den wird.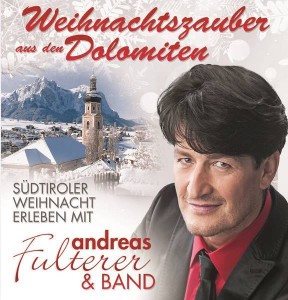 Zusam­men mit sei­ner Band und den bei­den Sän­ge­rin­nen, möch­te Andre­as Ful­te­rer die Zu­schauer auf ein gefühl­vol­les Weih­nachts­fest ein­stim­men. Mit Lie­dern die eben nicht schon Wochen vor­her in Ein­kaufs­zen­tren gespielt wer­den, son­dern die Men­schen tief in Ihren Her­zen berüh­ren. Sie dür­fen es erle­ben – die gro­ße Büh­ne wird an die­sem Abend in der Eifel zu Gast sein. Nach 5 Jah­ren Vorbereitungs­zeit ist ein Kon­zert­pro­gramm ent­stan­den, das sich mit kei­nem ande­ren ver­gleichen lässt. In sei­nen Weih­nachts­kon­zer­ten trifft sich Tra­di­ti­on mit Mo­derne (Volks­mu­sik, Musi­cal und Pop). Schon der kur­ze Hin­weis im Inter­net brach­te über 100 Vor­be­stel­lun­gen; kann es ein schö­ne­res Kom­pli­ment für einen Künst­ler, sei­ne Band, sein Team und für ein weih­nacht­li­ches Musik­kon­zept geben. Video Vor­ver­kaufs­stel­len: Wochen­spie­gel May­en, Tel. 02651/901070 Röh­rig-Bau­zen­trum Treis-Kar­den, Tel. 02672/680 Buch­hand­lung Lay­aa-Laul­hé Cochem, Tel. 02671/7801 Andrea Ney, Tel. 02677/745, andreaney@t‑online.de Susan­nes Scho­ko­Läd­chen Ham­buch, Tel. 02653/914942 Buch­hand­lung Wal­gen­bach Kai­ser­sesch, Tel. 02653/911255 Ticket-Regio­nal: hier
Groo­ve Gar­den, 12.12.2015
Man muss als Band nicht immer die Welt neu erfin­den: Wer gut covert, hat auch Erfolg! am Sams­tag, 12.12.2015, 20:00 Uhr (Ein­lass: 19:00 Uhr) Tan­nen­hof, 56761 Ham­buch Die Cover- und Par­ty­band Groo­ve Gar­den ist so über­zeu­gend gut in die­ser Kunst­form, dass sie jedem Publi­kum, vor dem sie auf­tritt, eine Art Garan­tie­ver­spre­chen abge­ben kann: "Weil man eine Par­ty nicht umtau­schen kann…" Ihre Auf­trit­te sind vom Umtausch garan­tiert aus­ge­schlos­sen, weil die­se Band Edel­klas­se und per­fekt auf­ein­an­der ein­ge­spielt ist. Ihr musi­ka­li­sches Kön­nen und ihre star­ke Live­prä­senz machen Groo­ve Gar­den nicht nur zur ers­ten Wahl in klei­nen Clubs, son­dern auch in den gro­ßen Sälen. Sie zau­bern aus bekann­ten Chart-Hits Cover­ver­sio­nen, die oft bes­ser klin­gen als das Ori­gi­nal. Nur Abend­kas­se: 12,50 €